Aquamarine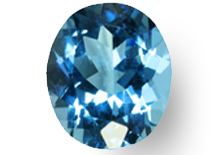 Chemical Formula: Be3Al2SiO6
Hardness: 7.5 - 8
Specific Gravity: 2.6 - 2.8
Aquamarine is a transparent pale blue to light greenish blue variety of beryl used as a gemstone. A truly fascinating stone, Aquamarine is the source of inspiration for the artists for innovative cuts than from other stones. The distinct and appealing color arises emotions of sympathy, trust, harmony or friendship. As per the legend, the origin of Aquamarine is believed to be in the treasure chest of the legendary mermaids and is renowned to be a lucky stone for sailors. Its name has been derived from the Latin terms "aqua" meaning water, and "mare" or sea.
Related to Emerald, Aquamarine belongs to the gemstone family of Beryls with the color being more evenly distributed in Aquamarine than in Emerald. Aquamarine is usually free of inclusions and possesses a superior brilliance. The more intense the color of an Aquamarine, the higher its value.
The variety of shades of Aquamarine are known by their unique names: "Santa Maria" is the name for the rare Aquamarine found in the Santa Maria de Itabira mine in Brazil. Some other are denoted as "Santa Maria Africana" found in Aquamarine gemstone mines Mozambique, in Africa. Those from Brazil are given the name "Espirito Santo" from the state of Espirito Santo. Aquamarines are also found in Nigeria, Madagascar, Mozambique, Afghanistan and Pakistan.
With the divine and eternal color of the skies, the clear and transparent gemstone is often used for modern jewelry design with stylish and elegant cuts that makes it truly appealing and beautiful.
Available Shapes:
Triangle
Round Cut
Square
Heart
Drop
Baguette
Briolette
Oval
Octagon
Pears
Emerald Cut
Marquise
Fancy
Trillion