Peridot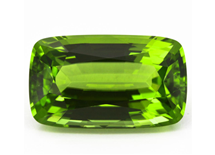 Peridot is an excellent stone for cleansing, healing and aligning the heart chakra. It releases energy of softness and warmth and is nurturing to the wearer.
One gemstone is born in fire: peridot, the volcanic gem. Small crystals of peridot are often found in the rocks created by volcanoes and also can be found in meteors that fall to earth! A few samples of extraterrestrial peridot have even been faceted into gems!
Peridot is the gem form of the mineral olivine. Because the iron which creates the color is an integral part of its structure, it is found only in green, ranging from a summery light yellowish green to a 7-up bottle green.
Peridot is the birthstone for August.
Peridot is mostly mined by Native Americans in Arizona on the San Carlos Reservation. Fine large peridot are found in Myanmar (formerly Burma) and peridot is also mined in China and Sri Lanka.
In 1994, an exciting new deposit of peridot was discovered in Pakistan, and these stones are among the finest ever seen. The new mine is located 15,000 feet above sea level in the Nanga Parbat region in the far west of the Himalaya Mountains in the Pakistanian part of Kashmir. Beautiful large crystals of peridot were found, some that cut magnificent large gemstones. One stone was more than 300 carats! This new discovery, combined with fashion's passion for lime green, has revived interest in peridot and increased the popularity of this gemstone.
Although peridot is treasured in Hawaii as the goddess Pele's tears, almost all of the peridot sold in Hawaii today is from Arizona, even though peridot is produced by Hawaii's volcanoes. The island of Oahu even has beaches made out of olivine grains but unfortunately they are much too small to cut into peridot!
Available Shapes:
Triangle
Round Cut
Square
Heart
Drop
Baguette
Briolette
Oval
Octagon
Pears
Emerald Cut
Marquise
Fancy
Trillion