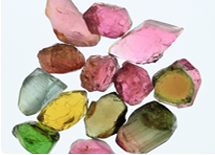 GIRI CORP started its Business in the Year 1995 as a Gems-Stone Trading Company. The Company began dealing in minimal Quality Gems & gradually built up the range to include all Types , Sizes & Qualities. GIRI CORP. now is well known & a successful company that offers a wide, unlimited selection of ROUGHS & CUT STONES and is successfully catering to huge quantity requirements of the International Gems and Jewellery market with diverse range in quality and size of Gemstones.
Today GIRI CORP. is a well known Gemstone Company in BANGKOK having sourcing of ROUGH & CUT Stones from Brazil, Nambia, Nigeria, Tanzania, Zambia, Nairobi, Congo, South Africa with a Global Export Network in India, Japan, Hongkong, Europe and USA.
As the International market needs and demands has been continuously changing. The Company has specialized in catering to International demands Continuously and has successfully established a niche with bigger size ( FAR sizes ) of Stones.
GIRI CORP.- offers its Customer's with BEST QUALITY GOODS at reasonable, Competitive Prices.
OUR GOAL
Our goal is to give the "Four C"- a new dimension :
*Consistency * Commitment * Conviction *Creation