Citrine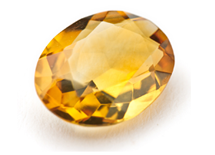 Citrine is one of the most affordable gemstones, thanks to the durability and availability of this golden quartz. Named from the French name for lemon,"citron," many citrines have a juicy lemon color.
Citrine includes yellow to gold to orange brown shades of transparent quartz. Sunny and affordable, citrine can brighten almost any jewelry style, blending especially well with the yellow gleam of polished gold.
Citrine does not hold negative energy, rather is dissipates and transmutes energy. Citrine is referred to as the "merchant stone" because it helps to acquire prosperity. It is great for problem solving as it energizes and strengthens the solar plexus. It is a stone of happiness, openness, light, optimism and fresh beginnings. It also helps with depression.
Most citrine is mined in Brazil. Supply of citrine is good from the Brazilian state of Rio Grande do Sul, particularly from the Serra mine, which is producing 300 kilos a month of hammered goods. The Ira' mine produces an additional 100 kilos a month of hammered goods.
Available Shapes:
Triangle
Round Cut
Square
Heart
Drop
Baguette
Briolette
Oval
Octagon
Pears
Emerald Cut
Marquise
Fancy
Trillion