Garnet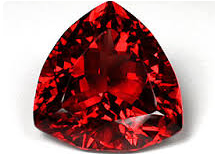 GARNET is one of the most versatile stones on the market. It comes in a rainbow of colors, from deep red to tangerine orange to lime green to pale pink, as well as purple, gold and brown.
Garnet is found all over the world, including Africa, Australia, Eastern Europe, the Middle East, North America, South America and Southeast Asia. There are garnets that change color in different light, translucent green garnets that look like jade, and garnets that display a faint four-rayed star. Even though this exciting gem has been mined for thousands of years, new deposits have been found in the last decade.
This stone is actually part of a family of gems with mineral and color differences that include Rhodolite, Malaya, Demantoid, Grossular, Hessonite, Spessartite, Almandine, Mandarin, and combinations of these varieties.
RED GARNET (Almandine), the most common type, is dark red to brownish red. Pyrope is blood red.
RHODOLITE, one of the most popular varieties, ranges from pink to purplish red and is mined in Africa, India and Sri Lanka.
TSAVORITE is bright yellow green to grass green and is also mined in Tanzania and Kenya.
HESSONITE & SPESSARITE mostly come in golds, oranges and browns.
As the most common types of garnet, almandine and pyrope are also the most affordable. But tsavorite and demantoid are quite rare and can cost several thousand dollars per carat depending on size and quality. Bright colors usually command higher prices than gems with light or dark hues. The stone also is available in a variety of sizes, depending on the type of garnet. Larger stones are available in the more common types and
Available Shapes:
Triangle
Round Cut
Square
Heart
Drop
Baguette
Briolette
Oval
Octagon
Pears
Emerald Cut
Marquise
Fancy
Trillion