Ruby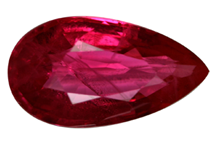 Ruby has been the world's most valued gemstone for thousands of years. Ruby was said to be the most precious of the twelve stones God created when he created all things and this "lord of gems"was placed on Aaron's neck by God's command. The bible says that wisdom is "more precious than rubies," that is to say very valuable indeed. In the ancient language of Sanskrit, ruby is called ratnaraj, or "king of precious stones" and ratnanayaka, "leader of precious stones."
Rubies are today still more valuable and rare than even the top quality colorless diamonds
Top rubies are so rare even the world's top gem dealers must incessantly comb estate sales and auctions to find them. Sizes above five carats are particularly rare.
Ruby is the gem quality of the mineral corundum, one of the most durable minerals which exists, a crystalline form of aluminium oxide. Corundum has a hardness of 9 on the Mohs scale and is also extremely tough. In its common form, it is even used as an abrasive.
Available Shapes:
Triangle
Round Cut
Square
Heart
Drop
Baguette
Briolette
Oval
Octagon
Pears
Emerald Cut
Marquise
Fancy
Trillion