Spessartite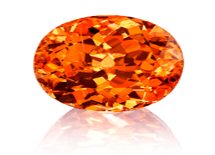 Chemistry: Mn3Al2(SiO4)3 Manganese aluminum silicate (var. garnet)
Mined: USA, Brazil, Germany, Sweden, Madagascar Sri Lanka.
Moh's Hardness: 7-7.5
Spessartite Garnets, also known as Spessartite, are the orange to red orange variety, often referred to as "root beer" colored Garnets. The name is derived from Spessart, Germany, where this variety was first discovered. Today, Brazil, Madagascar and Sri Lanka are the primary locations where this orange variety of Garnet is mined.
Available Shapes:
Triangle
Round Cut
Square
Heart
Drop
Baguette
Briolette
Oval
Octagon
Pears
Emerald Cut
Marquise
Fancy
Trillion